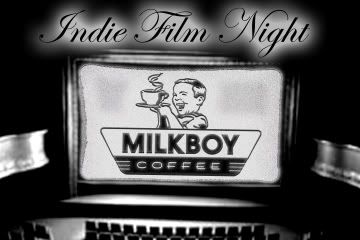 Indie Film Night at Milkboy Coffee
Hosted by Stephanie Yuhas
July 26th 8 pm – 10 pm
2 Lancaster Ave
Ardmore, Pennsylvania 610-645-5269
FREE Admission!
Milkboy Coffee is having open screenings of short films on a monthly basis and welcomes general audiences to step into the air-conditioning, have a seat on the comfy couches, and enjoy some free movies!
If you are a local filmmaker and would like to show your film in front of an audience, please bring your film, clearly labeled with your name, the title, and the duration to long-haired girl holding the giant clipboard (that's me!), and I will make sure you get screened. Films are screened first come, first served, so please come a few minutes early to guarantee yourself a seat. Films fifteen minutes and under will be accepted, however, if you have a longer film or feature that you would like screened, we can clips or a trailer of your film as long as it is discussed before the screenings start.
Due to the fact that the coffee shop is open to the general public, please not bring anything above an "R" rating – use your best judgment. Would you let your mom see it? If not, please don't bring it, because someone else's mom (or grandma or child) might be there!

Good films, great coffee, free popcorn – who can resist?
Click here for directions.